Australia's finest slate is found in the Clare Valley near the town of Mintaro. We were lucky enough to be shown the workings and picked up a few odd bits of slate - I knew that jewellery would come out of this place!  This industrial-feel piece interprets the workings.
Sterling silver, slate and brown diamond pendant, on 18" sterling chain
Length: about 45 cm

Presentation boxed with the photograph of the inspiration. 
Related Products
Mintaro Pendant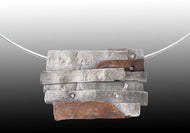 Mintaro Slate earrings