An irregular dot in the ocean. But what a dot! The most pristine of waters and the most stunning and easily observed marine life make this the perfect island for nature lovers. Paradise for snorkelling. A sterling silver freeform shape and saltwater pearl represent this natural paradise surrounded by ocean.
Available in two lengths
Presentation boxed with the photograph of the inspiration. 
Related Products
Heron Island Earrings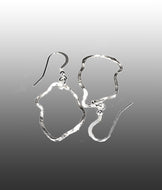 Heron Island, Freshwater Pearl Pendant