The wattle is Australia's floral emblem. We talk about 'golden wattle' but it's mostly a brilliant yellow. Each golden flower is created by assembling 72 tiny gold plated glass beads into one ball and securing them with patinated sterling silver spikes to a patinated sterling silver tube. Designed and made by Hayley Coates for Australian Landscape Jewellery.
Also available in yellow and red
Presentation boxed with the photograph of the inspiration.
Length: 48cm
Related Products
Wattle Earrings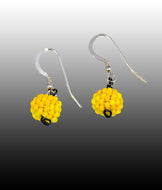 Wattle Small Necklace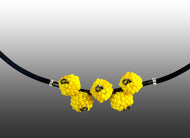 Wattle Pendant