Acacia Leprosa - Red Wattle - is a natural mutation of a more common wattle. It was discovered by bushwalkers in Victoria, who gathered specimens for identification. Growing from seed produced only yellow wattle, so more plants were developed by cloning. There is a thriving collection of them in Canberra. Each flower is created by assembling 64 minute red glass beads into each ball and securing them with patinated sterling silver spikes to a patinated sterling silver tube. Designed and made by Hayley Coates for Australian Landscape Jewellery.
Also available in yellow and gold (24ct gold plated glass beads)
Available in two lengths
Presentation boxed with the photograph of the flower.
Related Products
Wattle Earrings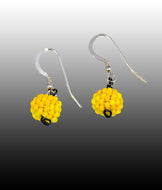 Wattle Small Necklace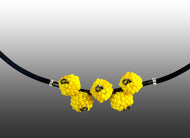 Wattle Large Necklace