The wattle is Australia's floral emblem. There are hundreds of variants of this species, such that somewhere in Australia, a wattle is almost certain to be in bloom. Each flower is created by assembling 64 minute glass beads into one ball and securing them with patinated sterling silver spikes to a patinated sterling silver tube. Designed and made by Hayley Coates for Australian Landscape Jewellery.
Also available in red and gold (24ct gold plated glass beads)
Presentation boxed with the photograph of the flower.
Length: 45cm
Related Products
Wattle Earrings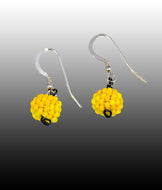 Wattle Pendant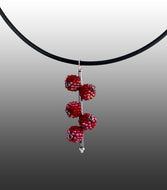 Wattle Large Necklace